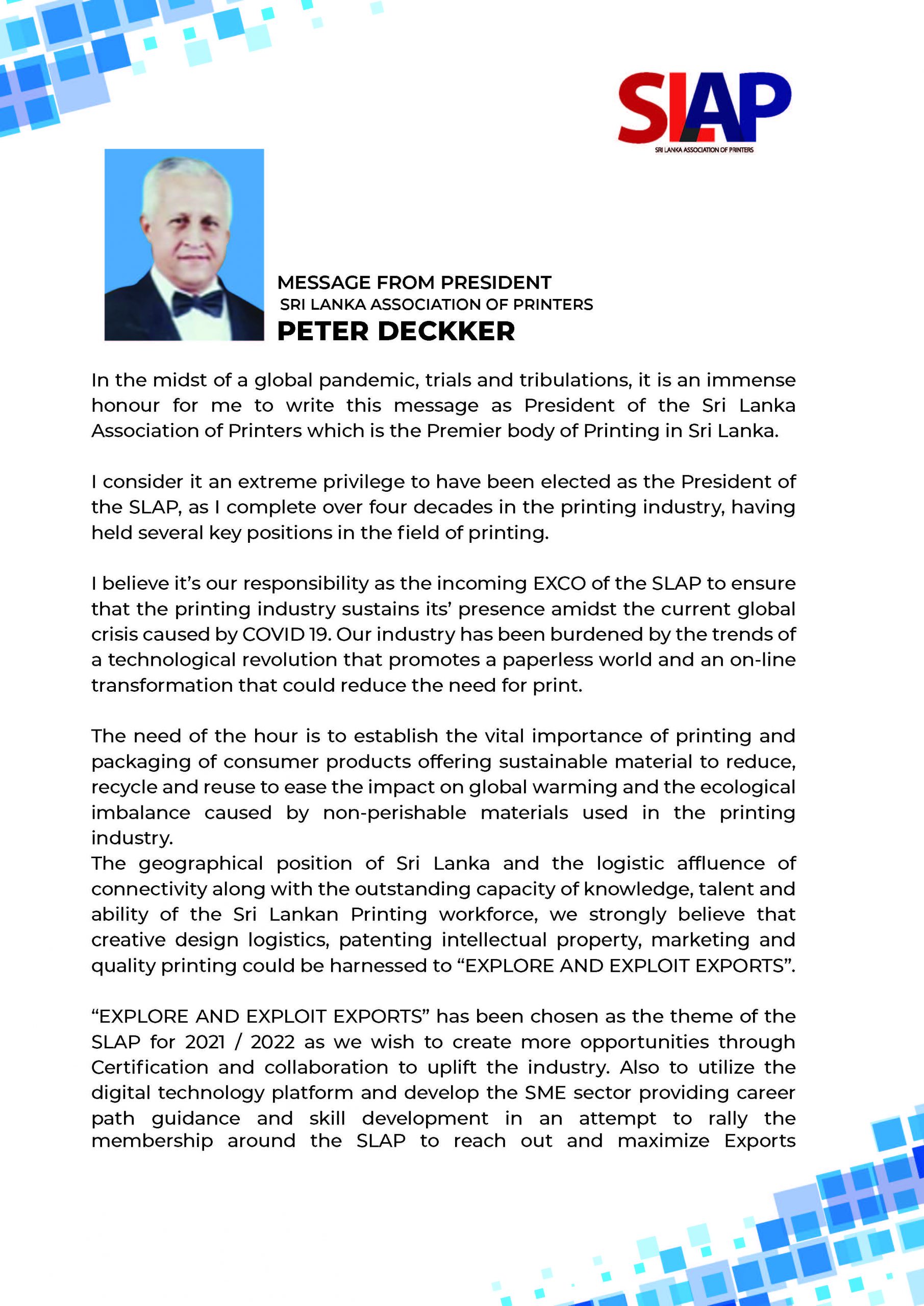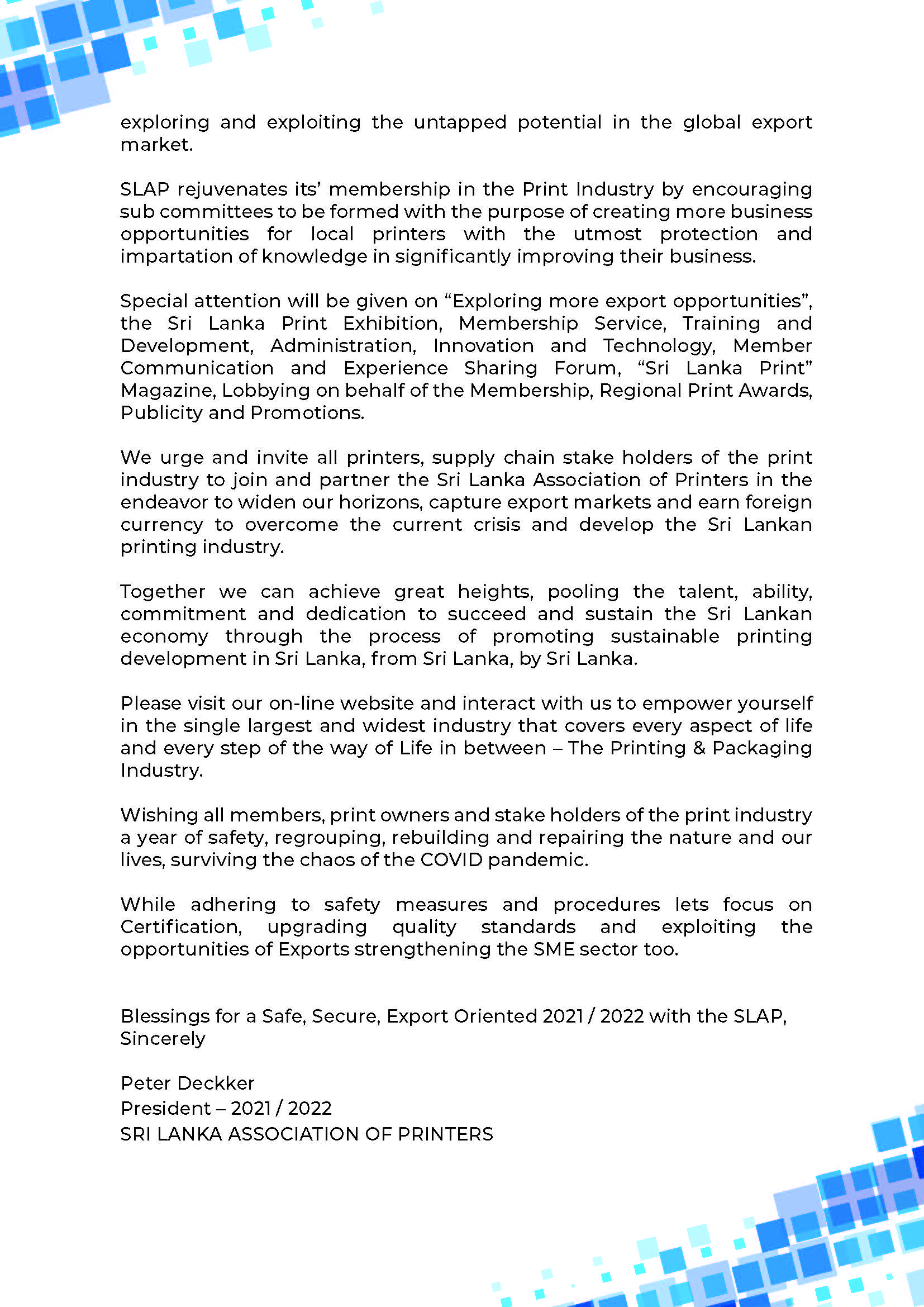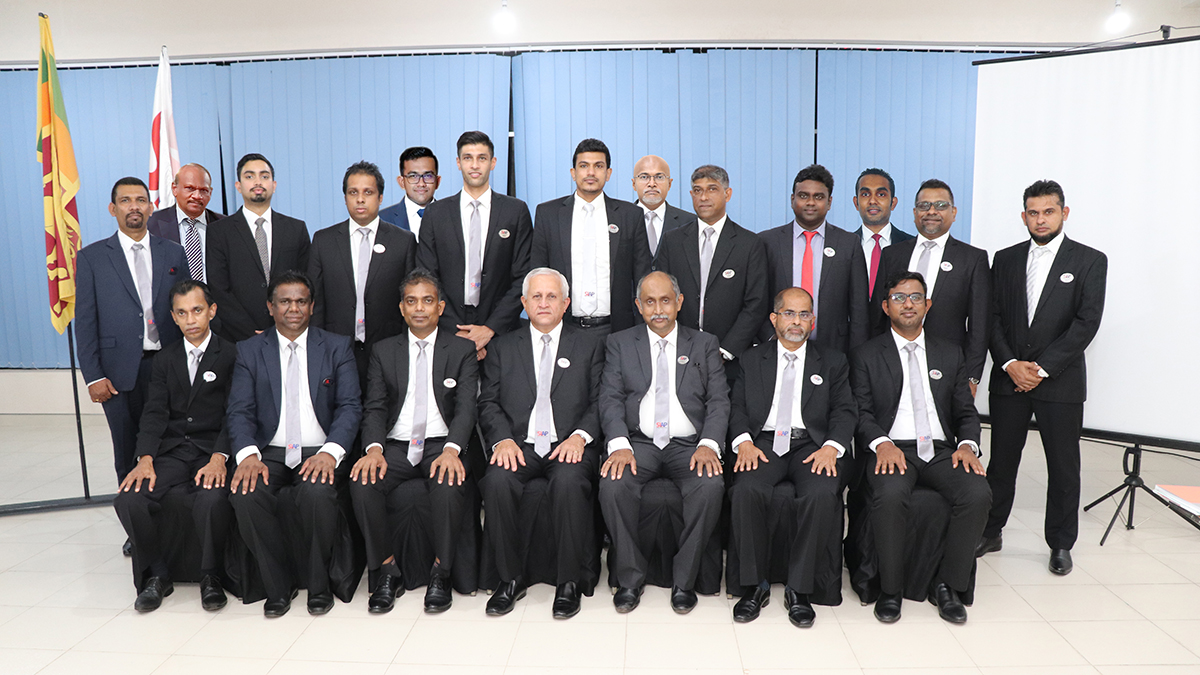 Seated (Left to Right) Mr.Roshan Ziyard(Asst. Secretary) Mr. M.Senthilnathan(Secretary) Mr.Viraj Jayasooriya(1st Vice President) Mr.Peter Deckker(President)  Mr.Delan Silva(Immidiate Past President) Mr. Anil Kariyawasam(2nd Vice President) Mr. Selvam Kethees (Treasurer).
Standing 1st row (Left to Right) Mr.Vasantha Bandara(Committee Member) Mr. Manthi Weerasekera(Committee Member)  Mr.Chayanka Wickremesinghe(Committee Member) Eroshan Mallawaratchi(Committee Member) Mr.Benuka Ariyasena(Committee Member)  Mr.Heshan De Silva(Committee Member) Mr.Amitha Bandara (Ass. Treasurer) Mr. Supem de Silva(Committee Member)   Mr.Nishantha Perera(Committee Member) Mr.Harsha Gayan(Committee Member) Mr. Chanaka Hapuarachchi(Committee Member)  Mr. Udaya Hettiarachchi (Committee Member) Mr.Mohammed Manaseer(Committee Member)
To be the preferred partner for all printing solutions globally, paving the way towards being the Printing Hub of Asia
To enrich the passage and growth of the Printing, Packaging, Graphic & Media Industry in Sri Lanka through the empowerment of the Sri Lankan Printers to be sought after professionals in the Global Village equipped with the evolving technological advancements, skillful core competencies and talent for innovation creating modern trends
Sri Lanka Association of Printers is the authoritative body representing the interests of the printing community in Sri Lanka who are the members of the S L A P. The association was established in 1956 to safeguard and progressively develop the printing industry of the country. It has a rich history spanning more than half a decade. The association closely works with government and international organizations in order to harness the maximum benefits for our members. Further the association seeks to build goodwill and promote welfare amongst members. It also seeks to develop the industry introducing modern technology, skill development and providing employment opportunities particularly to the youth of the country.
The association represents the printing industry as a whole including Printers, Suppliers to the printing industry and Service Providers. The association always strives to ensure that member aspirations are addressed with priority. The association provides the highest standard of support for printers to grow and develop healthy, sustainable and profitable businesses, aiming to provide an environment geared towards their businesses success.
Sri Lanka Association of Printers was established in 1956. The first president was Mr. M.D.A. Wijesinghe. From there on it has grown steadily from strength to strength over the past 59 years.
The heritage of Sri Lanka Association of Printers is closely linked with past presidents. They have to be thanked and acknowledged by the whole printing fraternity for their yeoman service rendered to the industry during the difficult times. All past presidents have had a hand in the gradual progress of the association handing on the baton to their successors. We are honoured to recognize them as a tribute, being proud of our heritage. 1956 – 2015